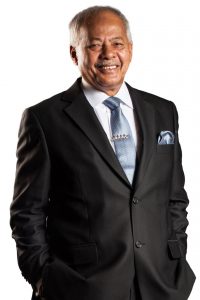 General Tan Sri Dato' Seri Mohd Shahrom Bin Dato' Hj Nordin (Rtd)
(Independent Non-Executive Chairman)
General Tan Sri Dato' Seri Mohd Shahrom Bin Dato' Hj Nordin (Rtd.), Malaysian, aged 71, was appointed as the Independent Non-Executive Chairman of Minda Global's Board of Directors on 9th January 2018.
After his secondary education, he was selected for Officer Cadet training at the Royal Military College, Kuala Lumpur in 1966 and was commissioned as a Second Lieutenant into the Royal Malay Regiment in 1968. He served in various appointments at command, staff, training and the diplomatic services levels and was the Chief of the Malaysia Army in 2003. Prior to that appointment, he was the Chief of Staff at the Armed Forces Headquarters. Tan Sri was also awarded an Honorary Doctorate in Management by the University of Cyberjaya in 2019.
Currently, he is the Executive Director (Defence and Business Development) of the National Aerospace & Defence Industries Sdn. Bhd. (NADI) and also a Director of SME Ordance Sdn. Bhd. (SMEO), a subsidiary company of the NADI Group of Companies. He is also a member of the Executive Committee of the Retired Armed Forces Officers' Association.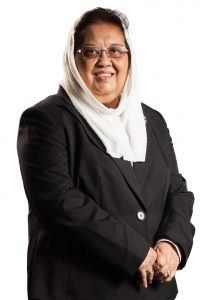 Tan Sri Datuk (Dr.) Rafiah Binti Salim

(Senior Independent Non-Executive Director)
Tan Sri Datuk (Dr.) Rafiah Binti Salim is a Malaysian aged 71. She was appointed as a director of the Company and as the Chairperson of the Nomination & Remuneration Committee since 9th January 2018 
Tan Sri has excellent service records within both the domestic public and private sectors, and international environments. She has served as a Lecturer, Deputy Dean and Dean of the Law Faculty of University of Malaya, Assistant Governor of the Central Bank of Malaysia, Human Resource General Manager of Malayan Banking Berhad and the Assistant Secretary General for United Nations Human Resource Management in New York. Tan Sri was previously an Executive Director of the International Centre for Leadership in Finance and in 2006, she was appointed as the first female Vice-Chancellor in Malaysia posted to University of Malaya. 
Tan Sri is currently a Director of Allianz Malaysia Berhad, Allianz Life Insurance Malaysia Berhad, Allianz General Insurance Company (Malaysia) Berhad and the Chairman of the Board for Malaysian Genomics Resource Centre Berhad. She is also the President of Pertubuhan Tindakan Wanita Islam (PERTIWI) and the Malay Girls' College/ Tunku Kurshiah College Old Girls' Association. 
Tan Sri graduated with a Masters and a Bachelor's Degree in Law from Queen's University, Belfast, United Kingdom and was awarded an honorary Doctorate by the same University in 2002. She was called to the Malaysian Bar in 1988.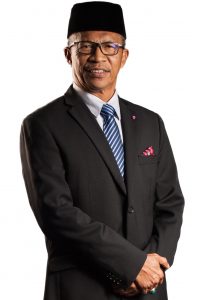 Professor Colonel Tan Sri Datuk Wira Dr Hj Mohd Shukor Bin Haji Mahfar (Rtd)
(Independent Non-Executive Director)
Prof. Kol (Rtd) Tan Sri Datuk Wira Dr. Hj. Mohd Shukor Hj. Mahfar, a Malaysian, aged 63 was appointed to the Board of Minda Global Bhd and as the Chairman of the Audit Committee and Risk Management Committee and member of the Nomination & Remuneration Committee on 9th January 2018.
He started his career as a Bank Officer back in 1978. He later joined the Inland Revenue Board of Malaysia (IRB) as an Assessment Officer. He then quickly rose through the ranks and was appointed as the CEO in January 2011.
Tan Sri was elected President of the Malaysian Association of Statutory Bodies and Chairman of The Commonwealth Association of Tax Administrators (CATA); and was awarded the CEO of The Year 2015 by The European Emerging Markets Awards and received the 2015 Lifetime Achievement Award – Outstanding Contribution in Shaping People by The Asia HRD Award.
Tan Sri Datuk Wira Dr. Hj. Mohd Shukor holds a Bachelor of Economics with University Malaya, a Postgraduate Diploma in Computer Science with Malaysia University of Technology, and Master of Taxation and Doctor of Public Administration at the Golden Gate University, USA. He also received an Honorary Doctor of Management from UNITEN and Asia Metropolitan University.
Tan Sri also serves as the Chairman of McMillan Woods National Tax Firm and the Chairman of Uniutama Education and Consultancy (UECSB). He currently sits on the Board of Directors at Uniutama Management Holdings (UMHSB). He is also a Partner at YYC Advisors, and an Advisor to Century Software (Malaysia) Sdn Bhd.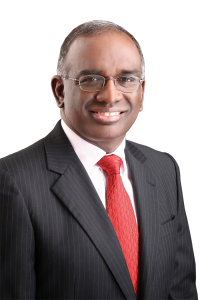 Tan Sri Dato' Dr Palaniappan A/L Ramanathan Chettiar
(Group Managing Director & Group Chief Executive Officer)
Tan Sri Dato' Dr R. Palan, a Malaysian aged 62, was appointed to the Board on 9th January 2018.
He is an accomplished management professional with diverse experience gained globally. Equipped with a strong business and technological orientation, he made education related ventures his core focus and the theme of his entrepreneurial achievements. The author of over a dozen books, he studied at the Harvard Business School, Federation University, Australia, Leicester University, U.K., California Coast University and the Madras University. Tan Sri founded Yayasan Palan to support his Corporate Social Responsibility ("CSR") educational initiatives. His voluntary contributions include serving on non-profit organisations, both governmental and private.
Tan Sri Dato' Dr. Palan is a recipient of the Darjah Kebesaran Panglima Setia Mahkota (PSM), which carries the title 'Tan Sri', from the Seri Paduka Baginda Yang di-Pertuan Agong, Tuanku Abdul Halim Mu'adzam Shah. He is also a recipient of the Darjah Datuk Paduka Mahkota Perak (DPMP), which carries the title Dato', awarded by the DYMM Paduka Seri Azlan Shah, Sultan of the State of Perak Darul Ridzuan and the Johan Bintang Kenyalang (JBK) from the Yang Di Pertua Negeri (Governor) of the state of Sarawak.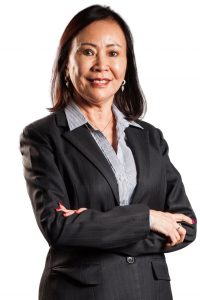 Dato' Tan Choon Hwa @ Esther Tan Choon Hwa
Independent Non-Executive Director
Dato' Esther Tan Choon Hwa, aged 68 years, a Malaysian, was appointed to the Board of Directors of Minda Global as an Independent Non-Executive Director and as a member of the Audit Committee and Risk Management Committee on 9th January 2018.
She is a Fellow Member of the Institute of Chartered Accountants in England and Wales (FCA), a Member of the Malaysian Institute of Accountants (CA) and a Fellow Member of the Chartered Tax Institute of Malaysia.
Dato' Esther Tan began her career as an auditor with Grant Thornton in UK and later with Kingston Smith in UK before coming back to Malaysia. In 1984, she started her practice which eventually merged to be what is known as GEP Associates. The firm is a member firm of an International Organisation called AGN International with its headquarters in the United Kingdom boasting of 465 offices worldwide. In 2008 and 2009, Dato' Esther Tan became its first lady Chairperson to lead the international organisation and is today still an active International Board member representing the Asia Pacific region.
In 2006, Dato' Esther Tan received the award from the National Association of Women Entrepreneur Malaysia as "The Woman Entrepreneur of the Year" under the Finance section.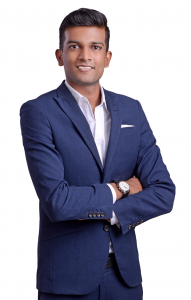 Maha Ramanathan Palan
Non Executive Director
Maha Palan, a Malaysian, aged 24 was appointed to the Board on the 23rd of July 2018.
He has a Bachelors (Hons) in Chemical Engineering from the University of Manchester and a Masters in Financial Engineering from Imperial College London.
Maha has served in investment-focused roles in firms such as Creador Sdn Bhd, Maven Global LLP and Piton Capital LLP. During this time he has worked on deals ranging from the exit of a fund from a premier European tech startup with a valuation in excess of €2.5 billion to a multi-national consortium's successful tender for Indian airport services with an NPV in excess of $1.5 billion. 
Prior to his appointment, Maha has been working with Minda Global since January of 2018 with a focus on operational restructures, strategy alignment and revamping internal HR processes to focus on talent development and retention.
Maha is also a co-founder of The Palan Foundation, a registered non- profit organisation committed to improving the educational attainment of young disadvantaged individuals.